Reprieve for Canterbury's Catching Lives homeless charity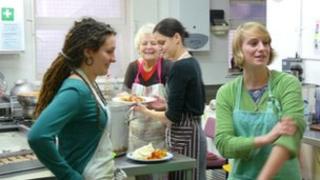 A homelessness charity in Kent that was facing closure because of lack of funds has been given a three-month reprieve.
Catching Lives, in Canterbury, had run out of funds and used all its reserves, service manager Terry Gore said.
After the day centre announced its imminent closure, a donor stepped forward with money on Friday to keep it operational until the end of November.
Mr Gore said staff had been given breathing space to seek more cash.
The centre, which opened in 2009, also those who are vulnerably housed in and around Canterbury. Last year 450 individuals walked through its doors.
It needs £5,000 a month to stay open.
Archbishop's backing
Mr Gore said: "We don't just help people who are sleeping rough. It's also people who are sofa-surfing and in danger of being evicted.
"In November, we will be back to this position again.
"We have got bids into private trusts and various funding bodies.
"But we would like to raise awareness among the local community and get people on board to get money to survive."
He said the charity was considering selling its building and relocating.
Dr Rowan Williams, who stands down as the Archbishop of Canterbury in December, has made regular visits to the centre every winter as the charity's patron, Mr Gore added.
He said the archbishop had asked all churches in Canterbury diocese not to give him gifts when he steps down, which is the custom, but rather to donate money to Catching Lives.