Nasa widow to auction space memorabilia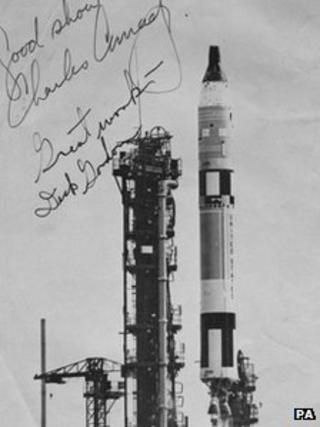 Memorabilia owned by a Nasa technician killed fuelling a Titan rocket on the US space programme at Cape Canaveral in 1997 is be auctioned next month.
The items include a US flag flown for the launch of the shuttle Columbia and a photograph of the Gemini 11 lift-off in 1966 signed by its astronauts.
The widow of Bob Harvey, found with a fatal gash in his head, is selling the items in Folkestone, Kent.
She has tried in vain to establish how he died, Grand Auctions said.
Mr Harvey, 60, was found on a platform near the top of the Titan rocket with a six-inch gash to the back of his head, a spokeswoman added.
She said despite his wife Yvonne's attempts to unearth the truth, the exact details remain a mystery.
The fuel technician, whose career spanned 30 years, is commemorated by a brick in the Spacewalk of Honour for his work on the programme.
The photograph is being sold with the other items on 19 September is signed by Gemini 11's astronauts Charles Conrad and Richard Gordon.
"Conrad went on to become the third man to walk on the moon as commander of Apollo 12, while Gordon mapped the surface from the orbiting command module," the auction house spokeswoman said.