Medway hosts 600 athletes at British Transplant Games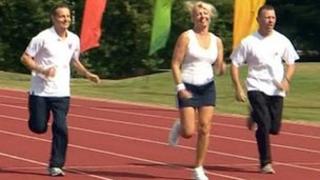 More than 600 athletes who have had life-saving organ transplants have competed in the British Transplant Games in Medway.
The games, which have just finished, were held in Medway for the first time.
Lynne Holt, from Transplant Sport UK, said more local people always signed the organ donor register after the games had been held in an area.
She said it was hoped the games would lead more people to consider organ donation in Medway.
'Promoting activity'
Ms Holt said: "We've not been to Medway and we know that the publicity of the area where we have the games always boosts the number of people who sign on to the organ donor register.
"We know that down here there are a lot of people who haven't had that conversation with their families and discussed their wishes, and we're hoping that this event will increase awareness."
She said the games were started in 1978 by a kidney transplant surgeon who wanted to promote sport activity and rehabilitation for his patients.
"From 99 'blooming miracles' - as they were in the first games - we now have over 600 athletes," she said.
Athlete Lisa Innes, who has had a heart and lung transplant because of her cystic fibrosis, competed in badminton, the donor run, shotput, the 100m relay, archery, tennis and softball.
She said: "I had my transplant in 1993, and it was about 1998 or 1999 when a friend of mine who had a transplant said to get involved with the games.
"I'd never heard about the games, and I went along. I didn't do any sport although I used to at school before.
"Then afterwards, I tried my hand at badminton, and absolutely fell in love with it, and I've been doing it ever since."
The games were held at Medway Park in Gillingham, with events also taking place across Medway and north Kent.
Athletes were being selected during the event for the World Transplant Games.