Thanet sewage spill inquiry announced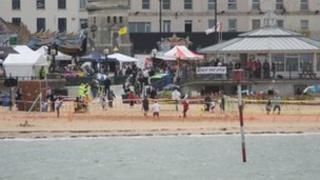 An inquiry is to be held into the spillage of raw sewage into the sea off Kent which resulted in several beaches being closed.
The sewage began entering the sea off Thanet on 30 May when the Southern Water Foreness Point Sewage Pumping Station failed.
More than 20 beaches were closed from 4 June until 12 June.
Thanet District Council said the inquiry would look into how the incident was managed.
Ian Driver, chairman of the council's overview and scrutiny panel, said: "We have now agreed a series of dates with all the key players involved in this major pollution incident."
He called on local businesses and anyone using Thanet's beaches over the Jubilee bank holiday weekend who was affected by the spillage to come forward if they wanted to give evidence.
He added: "The purpose of the investigation is to find out how effectively Thanet Council, the Environment Agency and Southern Water managed this serious environmental pollution incident."
After hearing all the evidence, the council's scrutiny panel will make recommendations about any improvements which could be introduced to manage any future sewage pollution more effectively.
Following the incident, Laura Sandys, Conservative MP for South Thanet, said the sewerage system was not "fit for purpose" and she would be meeting Southern Water and Thanet District Council.