Maidstone revellers arrive 'over drink-drive limit'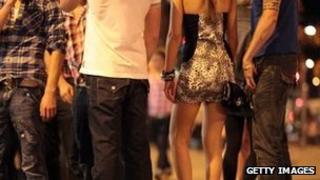 About one-third of people arriving in a Kent town centre on a Saturday night are already over the drink-drive limit, breath tests have shown.
Volunteers in Maidstone breathalysed those coming into the centre to assess the number of people "pre-loading" - drinking at home before going out.
Maidstone town centre manager, Bill Moss said: "Pre-loading is one of the biggest problems that we face."
Urban Blue Bus volunteers provide medical and pastoral care to visitors.
Mr Moss said: "Working with Maidstone Police, the volunteers on our Urban Blue Bus are meeting revellers on the way into town and asking them to take a breath test - that's before they start their night out.
"The alarming figure is that just about a third of all the people coming into the town centre are above the drink-drive limit even before they start their night out in Maidstone."
Minor injuries
He said he wanted other towns in Kent to do the conduct similar surveys.
"Once we can identify the size of the problem we can do something about it," Mr Moss said.
The Urban Blue Bus is run in partnership with Maidstone Town Centre Management, the NHS, police and the borough council and has a medical area on board.
The pubs and clubs in Maidstone are linked to the bus by radio and the volunteers act as a triage service.
The volunteers treat minor injuries on the bus, which is parked in the town centre on Saturday nights.
Mr Moss added: "The most recent stats, that's between February and July, show that on average the bus is saving six ambulance call-outs per week."