Westerham residents seek to block noise on M25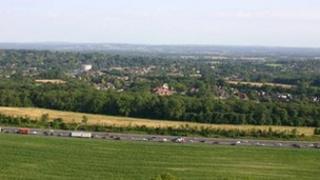 A scheme to create an extra lane on a 15-mile stretch of the M25 through Kent should include provision for improved sound barriers, residents have urged.
Motorists driving between Sevenoaks and Redhill, in Surrey, will be able to use the hard shoulder in a £250m scheme to provide extra capacity from next year.
But people living in Westerham fear it will cause more noise and pollution.
The Highways Agency said the impact on noise levels would be minimal and improvements were not needed.
Residents groups in the village have complained there was no consultation about the scheme between junctions five and seven, and sound barriers installed when the motorway was originally built were now out of date.
'Minor increase'
Peter Cashmore, chairman of the residents forum, said: "They were there for 88,000 traffic [movements], now we've got a more than 150% increase they're not suitable for this sort of traffic we're getting at the moment.
"If we're now going to four lanes that's going to mean increased traffic despite what the department says, and that means that we should have modern sound barriers."
In a statement, the Highways Agency said: "We have identified a small number of properties that will experience a minor increase in noise, none of which are in the Westerham area.
"Based on this information, improvements to sound barriers will not be delivered at this time."