High Halden and Faversham motorbike thefts 'may be linked'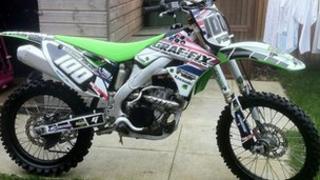 Police investigating two burglaries in Kent in which motorcycles and equipment worth more than £57,000 were stolen believe they may be linked.
In the latest break-in, three bikes were stolen from a showroom in The Mall, Faversham early on Thursday.
Police believe it may be linked to a £30,000 break-in at a workshop on the A28 at High Halden near Ashford between 26 and 28 August.
Six motorcycles, with tyres, boots and helmets were stolen in the first raid.
Det Con Kane Clifford said police wanted to hear from anyone with information about bikes or equipment being offered for much reduced prices.