London 2012: Visit Kent predicts £324m tourism boost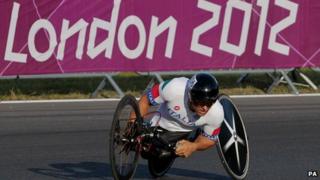 Tourism in Kent could be boosted by £324m in the next three years following the success of the Olympic and Paralympic Games, Visit Kent has said.
Sandra Matthews-Marsh, the tourist organisation's chief executive, predicted the real boost would come with "the bounce" after the Games.
Tourism had "picked up enormously" thanks to people travelling through and basing themselves in Kent, she said.
She added Games Greeters in Kent had individually met over 75,000 people.
"They worked their socks off, in all weathers," Ms Matthews-Marsh said.
'Fantastic action'
About 200 Games Greeters were stationed on ferries and at key railway stations including Ebbsfleet and Ashford.
They offered onward travel advice as well as tips on places to visit in the county.
Ms Matthews-Marsh said: "The real boost will come with the bounce post the Games thanks to people seeing all the amazing photographs, streamed coverage 24/7 of the Games, hearing about the amazing volunteers and the friendly welcomes."
Last week Brands Hatch welcomed more than 220 athletes from 50 countries for the Paralympic cycling events.
Up to 7,500 spectators a day watched the road races and time trials at the circuit near Swanley, and on nearby roads, from Wednesday to Saturday.
Richard Randle, from Motorsport Vision, which owns Brands Hatch, said it was the biggest event held there in terms of global audience since the 1986 British Formula One Grand Prix.
"The atmosphere within the circuit has been absolutely intense," he said.
"The competitors have truly rewarded the crowd with some fantastic action as well.
"It was nice to open up the circuit to a completely new audience.
"These people might have never been there before and hopefully will be tempted to come back to watch the motor racing."
Councillor Mike Hill, the Kent County Council cabinet member who took a lead role in Olympic planning, added the Paralympic cycling had been "the icing on the cake".
"It's been a sell-out... for the whole four days.
"It really has fired peoples' imagination. It was a really big thing for the people of Kent to have that on their doorstep."
He said the council was determined to make London 2012 a lasting legacy for the county, and "to end up with a legacy of increased excitement and enthusiasm for sport, particularly with our young people".