Tunbridge Wells Hospital seeks up to 200 redundancies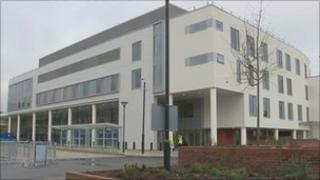 Up to 200 hospital staff in Kent could be made redundant under plans by Maidstone and Tunbridge Wells NHS Trust to save £20m a year.
The trust has asked 4,500 staff if they want to apply for redundancy, a year after its new £225m Tunbridge Wells Hospital became fully operational.
It said the cuts were unconnected with the cost of private finance initiative (PFI) repayments on the new hospital.
Chief executive Glenn Douglas said they were part of savings across the NHS.
"The NHS as a whole is facing £200bn cost savings over the next few years and and we have to provide our share of that," he said.
"Even without PFI we would still be facing the same challenges."
The final patients were moved to the 512-bed hospital at Pembury in September last year when the Kent and Sussex Hospital in Tunbridge Wells town centre closed.
Temporary staff
Staff at Maidstone and Tunbridge Wells have until 5 October to express an interest in redundancy.
Mr Douglas said it was too soon to know how many would do so but he hoped to avoid compulsory redundancies.
"We employ a significant number of temporary staff and also we have a turnover so within that I would see compulsory redundancies being a very, very small number," he said.
He added that as well as staff cuts, savings could be made with better use of information technology and by moving services out of hospital into the community.
Hospital bosses are meeting Kent's health watchdog, Link, on Friday after plans for three new bus routes were scrapped.
Subsidised services to Maidstone, Crowborough and Borough Green were a condition of planning permission to build at Pembury but Tunbridge Wells Borough Council has now agreed they can be dropped.
"They (the trust) agreed to the condition because they wanted the planning permission," said Tonbridge resident and outpatient Jane Hideggar.
"The question is whether they should have agreed in the first place if they considered it unsustainable."
Mr Douglas said the hospital subsidised three bus services from Tunbridge Wells, Tonbridge and Maidstone town centres, which would continue.
"You are never further than 10 minutes way from a connection to the new hospital so I think the system works really well," he said.