Kent schools 'high' governor vacancy rate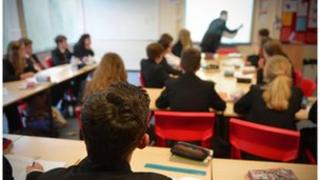 One in five school governor posts were vacant at the end of the summer term, Kent County Council figures have shown.
Figures showed 20% of posts were vacant in July, with 1,480 out of 7,201 positions unfilled.
Kent County Council (KCC) said schools normally recruited new governors over the summer and vacancies were expected.
But education expert Prof Chris James said Kent had a high vacancy rate compared with the general rate across the country of about one in 11.
Prof James, from the University of Bath, said: "I would say that's high. The general figure [vacancy rate] is about one in 11.
'Churn expected'
"You do get pockets where it's worse than other places and you do get some areas where it is a long-standing issue."
But Councillor Mike Whiting, cabinet member for education, said: "We would normally expect quite a churn as governors reach the end of their term of office.
"Governing bodies then set about replacing them and getting new governors on board during September and October, so we would normally expect that."
Mr Whiting said Kent had a higher vacancy rate than normal but added schools could now have as few as seven governors on board after changes introduced by the government.
He said schools were not looking for a prescriptive set of governors, but to make sure governors had the right set of skills.
Governors work with the head teacher to make improvements and ensure pupils have the best opportunities. They also hold the school's senior managers to account.
Mr Whiting said KCC wanted to find more school governors and bring more people into education.
School governors came from all walks of life and also received training, he added.
Recruitment information is available on KCC's website.