Hythe Imperial Hotel hoaxer 'remained in the locality'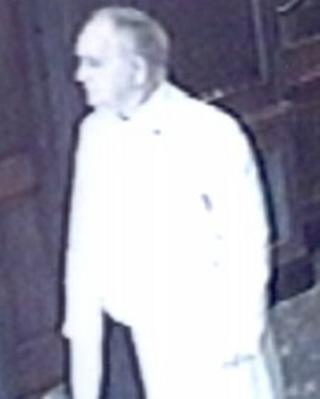 A gunman who threatened a hotel worker and said there was a bomb on the site was seen knocking on doors in a nearby road later that day, police have said.
The man entered the Hythe Imperial Hotel, in Hythe, Kent, just before 10:30 BST on 28 September, asked to see the manager and demanded a sum of cash.
The hotel was evacuated and a bomb disposal squad called but no device was found, and the man left the premises.
Police said information from witnesses had now shown he remained in the area.
CCTV images released of the suspect prompted several calls to officers, revealing he was given a lift from South Road to the area of the Aldi store in Bank Street at about 11:30 BST, and was seen knocking on doors in Rampart Road at 16:30 BST.
'North Devon'
The man was described as aged between 55 and 70, 5ft 6in to 5ft 10in tall, of medium build and tanned with grey receding hair.
He was wearing a gold hooped earring, a beige raincoat, dark trousers and a smart shirt, and was carrying a dark coloured bag.
He was seen smoking a cigarette.
Kent Police believe he could be from north Devon as he had a knowledge of the Ilfracombe area.
They have asked any witnesses who saw the man between 11:30 and 16:30 BST, or afterwards, to contact them.