Kent care home criticised by Care Quality Commission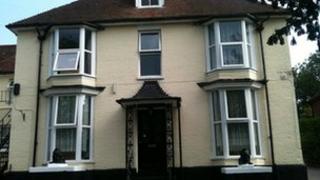 A Kent residential care home for the elderly has been criticised after inspectors found toilets and bathrooms in a poor state of repair.
The Care Quality Commission (CQC) also said Charing Court in Ashford, did not have enough staff on night duty during an unannounced inspection on 12 July.
Inspectors issued two warning notices to the home in Pluckley Road, Charing.
But Patrick Finn, director of Songbird Hearing Ltd, which runs the home, said he made the improvements within weeks.
He said he had informed the CQC that staffing and communal toilets redecoration issues had been resolved, with the toilets redecorated by 25 July, and night staff increased from two to three by 9 August.
Mr Finn also said he met a CQC inspector on 5 September to inform her improvements had been made and request a repeat inspection.
'No maintenance plans'
He told the BBC: "We told them verbally and they were told at a meeting and we would welcome a visit from yourselves or anyone and you will see all the communal toilets have been redecorated and there are three night staff on duty."
The CQC said its inspectors found the home had not taken appropriate steps to make sure enough staff were on duty at all times to meet the care and welfare needs of residents.
It said several people had high-dependency needs, and some needed two-to-one support.
Inspectors sai there were not always enough staff to meet the needs of those people and also adequately support other people and respond to emergencies.
Communal toilets and bathrooms were found to be in a poor state of repair, along with a laundry room used by staff.
And no plans were in place for the adequate maintenance of the building or the grounds, the CQC added.
Ian Biggs, CQC deputy director, said inspectors would return in the near future to carry out another inspection.