Kent beer industry fears for English hops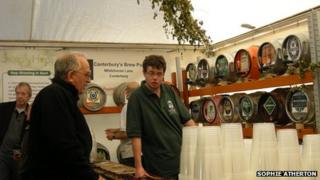 The English hop could be under threat - because brewers across the UK are opting to use foreign varieties.
Dr Peter Darby, research director of the National Hop Collection, based in Faversham in Kent, believes the English hop industry is "on the cusp".
He said there was an interest among regional brewers, who were the main customers for English hops, in the stronger flavours they could get from varieties grown abroad.
"If they decide that their customers prefer the stronger flavours, that obviously signals the end of the English hop industry," he said.
"I think we're on the cusp at the moment. It depends really which way the regional brewers go."
The decline in English hop growing comes at a time when UK breweries are at their highest number in 70 years and sales of real ale are rising.
But as Kent hop grower Frank Tipples explains: "The problem is that hops are used very efficiently these days."
He said not as many hops were used in beer, compared with in the past.
"Although loads of microbreweries have started up, they don't actually use that vast a quantity," he added.
He said the current interest in foreign hops had come from breweries "trying to produce something different".
So is there hope for the English hop gardens of the future?
At Shepherd Neame, Faversham's family-run brewer, head brewer Richard Frost said England's reduction in acreage was partly because of a move towards less bitter beer.
He said hops were used in two ways in beer, to give bitterness and to give aroma.
He said: "Part of the reason that we have seen a reduction in acreage has been a move towards less bitter beers.
"However, I think in recent years, there has been a resurgence of interest in beers with a bit more flavour and a bit more character and hence higher bitter levels.
"But hops are also used for aroma and we are seeing an increase in interest in the different aromas that different types of hops different hop varieties give to beer.
"That's led to a lot of the microbrewers looking at hops from abroad maybe from the US, from the continent and also from New Zealand."
But he said English growers now had "a real opportunity" to develop the industry by growing new aroma varieties.
Jon Mills, owner of The Foundry, a microbrewery in Canterbury, said his firm brewed one of its ales with East Kent Goldings - a local hop variety - and "there is no better hop in the world".
He added: "It's time to stand up on top of the rooftops and shout what a fantastic local product we have, and export it all over the world."
Tony Redsell, Kent hop grower and chairman of the British Hop Association, also said he had started to grow varieties of hops that have not been used for decades.
He said he had recently started to plant Bullion, which he first grew in 1968 and then dropped in 1980.
And he also said he was growing a variety called Bramling Cross, which he had seen declared obsolete in 1977.
"It's a very interesting aroma," he said.
"You can walk into the oast house when that is being dried and you know without asking that they have got Bramling Cross on the kiln."
Organisers of the Kent Green Hop Beer Fortnight, held in the county this month to boost the UK hop industry, said only 2,500 acres of hops were grown in Britain last year, compared with 72,000 acres in 1872.
The only major hop-growing regions in the UK are now Hereford and Worcester in the West Midlands and Kent in the South East.
Festival organisers said the UK was now at the forefront of efforts to develop new varieties including dwarf or hedgerow plants thought to be more sustainable than higher climbing crops.
Eddie Gadd, from the Ramsgate Brewery, said: "Many people don't realise what an incredible range of flavours and aromas brewers can create by using different varieties of British hops in different ways."
Urging people to use the UK hop industry or lose it, he added: "It would be a national tragedy if this part of our history and heritage was allowed to just disappear."