Rochester Cathedral to submit £4.5m lottery fund bid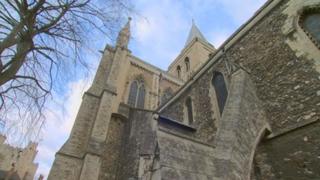 Rochester Cathedral is to submit a £4.5m bid to the Heritage Lottery Fund for essential maintenance work.
The cathedral, the second oldest in the UK, needs repairs to its library roof and disabled access to the building's three levels.
It is also hoped to display the Anglo Saxon Textus Roffensis - dated 1123 - in the crypt.
The manuscript, which is too fragile to be permanently shown in the building, helped inspire the Magna Carta.
It was named best hidden treasure by the British Library in 2007.
'Wonderful building'
The Very Reverend Dr Mark Beech said it took the church 18 months to put the bid together.
"There are some things that just need to be done. We need a new roof for the library because water is coming through and spoiling the books.
"But the main part of the project is actually about developing the place so that we can welcome people in and help them to share our heritage and our enthusiasm for this wonderful building," he said.
"Obviously this is a lot of public money. If we don't get the money, and there is always that possibility, we might just about have enough money to put disabled access into the three levels of the building but we wouldn't be able to do any of the developmental stuff.
"We wouldn't be able to do any of the activities that engage people with the cathedral."
Dean Beech added: "We've done everything that we can possibly do to make this happen and now it's in someone else's hands."
The results of the lottery bid will be announced in January 2013.
The Grade I listed cathedral building dates from 1083 and is famed for its Norman nave and Romanesque facades.
It is featured in Charles Dickens' works The Mystery of Edwin Drood and The Pickwick Papers.