Jail for Dover caffeine and paracetamol carriers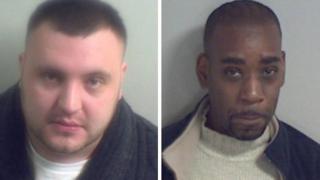 Two London men have been sentenced to eight years in jail after being found with paracetamol and caffeine in Dover.
Anthony Woodford, 23, of Lascelles Avenue, Harrow and David Lewison, 44, of West Hendon Broadway, Collingdale were stopped in April 2011 at the port.
The men were in possession of 150kg of the drugs which Kent Police said they believed would be cut with heroin.
On 17 September, they were found guilty at Canterbury Crown Court of assisting the supply of a Class A drug.
A van driven by Lewison was stopped by the UK Border Agency when it returned to the UK from Dunkirk on 21 April 2011.
Both men were charged in February 2012 under the Serious Crime Act as police said the drugs would be used as a cutting agent for heroin, which would have a street value of over £5m.
Det Sgt Mat Scott said: "We believe this to be the first time in the UK that the prosecution were able to prove, beyond doubt, that the huge quantity of paracetamol and caffeine were intended to be used to cut with heroin.
"This has been a successful test case and therefore has set a precedent for this type of offence."