Instruments used in Queen's coronation sold for charity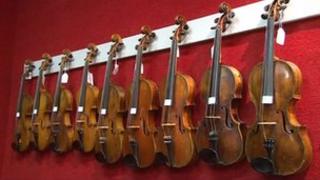 Instruments used at the funeral of King George VI and the coronation of the Queen Elizabeth II are being sold at auction to raise money for injured soldiers.
Fifty of the instruments played by the Orchestra of the Corps of Royal Engineers, based at Brompton Barracks, in Chatham, are being sold.
They include oboes, trumpets and violins.
Money raised will go towards The Royal Engineer Central Charitable Trust.