Wreath placed on unmarked Kent graves of German airmen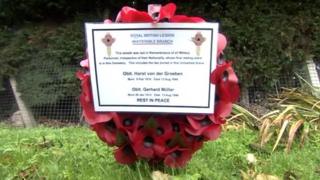 A wreath has been laid on the unmarked graves of two German airmen who were shot down over Kent in World War II.
Horst von der Groeben, 24, and Gerhard Muller, 27, were killed on 13 August 1940, during a bombing raid.
The location of their bodies in Whitstable was discovered by Joe Potter of Felixstowe, Suffolk, two months ago.
An oversight after the war meant their bodies were not moved to Cannock Chase German war cemetery in Staffordshire and their whereabouts was forgotten.
Mr Potter is currently campaigning to have the bodies of the two Luftwaffe 1st Lieutenants exhumed and placed next to their compatriots in Staffordshire.
His efforts have been praised by Canterbury Conservative MP Julian Brazier.
Members of of the Whitstable Royal British Legion placed a wreath on their unmarked graves on Saturday afternoon.
A card attached to the wreath reads: "This wreath was laid in remembrance of all military personnel irrespective of their nationality whose final resting place is in this cemetery.
"This includes the two buried in this unmarked grave: Oblt Horst von der Groeben, Oblt Gerhard Muller. Rest in peace."
The graves of 32 other military personnel are also buried at Whitstable Cemetery.
Donald Bird, vice-president of Whitstable Royal British Legion, said: "Seventy-two years is a long time ago, and I know people still harbour grudges about the Germans, but whether we like it or not we're all Europeans now."
Remembrance ceremonies were held across Kent on Sunday to commemorate service personnel who died in world wars and other conflicts.