Mervyn King, Bank of England governor, awarded degree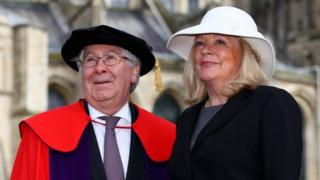 The governor of the Bank of England has been awarded an honorary degree by the University of Kent.
Sir Mervyn King, 64, was presented with the honorary doctorate of civil law at a ceremony at Canterbury Cathedral.
It is not his first degree: the banker was one of 12 people to graduate from Cambridge University in 1969 with a first in economics out of 200 students.
Sir Mervyn, who also studied at Harvard University, became governor of the Bank of England in 2003.
He said: "I am deeply honoured to have received an honorary doctorate from the University of Kent and to be able to wish so many new graduates every future success."
Following spells teaching at Cambridge, Birmingham and Harvard universities, Sir Mervyn was appointed professor of economics at the London School of Economics in 1984.
He joined the Bank of England as a non-executive director in 1990, becoming deputy governor in 1998.