Kent Police: Three released after Saga Party arrests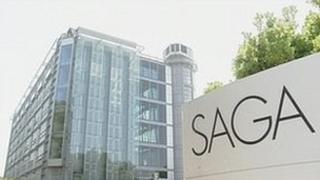 Three men who were arrested after the death of a man in east Kent have been released without charge.
The man, a Saga employee, was reported to have been refused entry to the company's Christmas party and was then restrained by door staff, police said.
Kent Police were called to the event at the Leas Cliff Hall on Thursday after reports of an assault.
Officers said paramedics took the man to the William Harvey Hospital where he was pronounced dead.
Three men were arrested but were released on Saturday, police said.
The man, who was married, has not yet been named.
Saga, which specialises in products and services for the over-50s, has its headquarters in Folkestone.
After the incident, Paul Green, Saga director, said there had been a tragic incident involving a member of staff and the company was greatly saddened by the loss of a valued colleague.