Thief takes cigarette break during burglary in Kent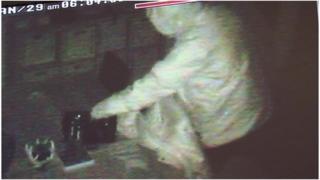 A family have spoken of their horror after a thief took an hour to burgle their home while they slept upstairs and then stole their car.
The burglary in Walderslade, Chatham, was recorded on the family's CCTV cameras on Tuesday at about 06:00 GMT.
Douglas and Veronica Quipp said they and their seven-year-old son were asleep when the man broke in through a kitchen window.
They said during the burglary he took drinks and had a cigarette break.
Mrs Quipp said jewellery, laptops and their son's school bag were stolen.
'No fear'
"There was no fear and that's what worries me," she said.
"If we'd bumped into him when we woke up what would he have done to us?"
The man escaped by stealing the family car, which has been found burnt out.
Mr Quipp said: "It's awful that I have a stranger walking around our home. Our house has been tarnished."
Police have appealed for witnesses to contact officers.