Kent parents fight school expansions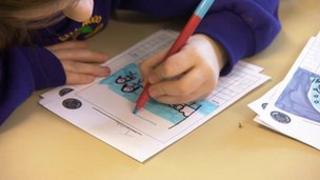 Parents and residents in west Kent are angry about proposals to expand 11 primary schools to cope with an increase in the population.
They say adding classes to schools in the Sevenoaks and Tunbridge Wells areas will increase traffic and lead to a drop in standards of education.
Parents at Pembury School have started a petition and Otford Primary parents are also fighting the plans.
Kent County Council (KCC) said it was responding to a local need for places.
It is proposed that Otford Primary, near Sevenoaks, takes another 70 pupils.
'Full beyond capacity'
Mark Jackson, who has two children at the school, said the distances parents needed to travel meant they had to use their cars.
Parish council chairman Rod Shelton said the whole village would be affected.
"The village car park is full to beyond capacity when parents try to deliver their children," he said.
"This is in no way to blame the parents - it is to blame KCC who aren't taking their responsibility of trying to help the parents get their children to school safely."
Father-of-three Steve Lukacs, a governor at one of the schools in Tunbridge Wells facing expansion, said adding extra classrooms put pressure on existing school halls, canteens and playing fields.
"If the school is not big enough to accommodate the additional capacity then the children will suffer and the education will suffer," he said.
Paul Barrington-King, Tunbridge Wells borough councillor for Pembury, said there was a "gold rush" of families moving to "desirable" Tunbridge Wells.
But he said this created traffic congestions when they were given places at Pembury School.
"We need to look at local schools where people live," he said.
"I know that goes against freedom of choice which parents should have, but fundamentally this can't go on."
Highways implications
Gary Cooke, KCC deputy cabinet member for education, said the west Kent schools were among 44 across the county being considered for expansion.
He said the proposals had not yet been finalised and that parents, teachers and governors were being consulted.
"We are looking at a school's capacity, educationally and physically, to expand," he said.
"We do need to be mindful of the highways implications.
"The plans to expand schools are geared very much to making sure we have the local provision to meet the needs of local communities."