Rochester Cathedral awarded £3.55m by Heritage Lottery Fund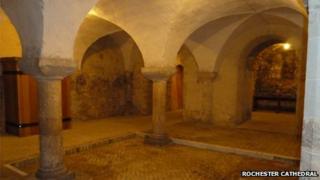 Rochester Cathedral has been awarded £3.55m by the Heritage Lottery Fund for building work which will open up its crypt and library to the public.
The money will benefit its "Hidden Treasures, Fresh Expressions" project, and will be added to £1.3m raised by the Cathedral Development Trust.
Archives previously inaccessible will be put on display as a result.
These include the Anglo Saxon Textus Roffensis - dated 1123 - which helped inspire the Magna Carta.
The manuscript is currently locked away for safety in the archives of Medway Council.
Roof repairs
Rochester Cathedral said the project would make it "the jewel in the crown of an imaginative and dynamic treasury".
The document was named best hidden treasure by the British Library in 2007.
The building works will also include repairs to the roof of the 17th Century cathedral library and renewed shelving to increase opportunities for displaying books.
The Dean of Rochester, Mark Beach, said the grant would enable the cathedral to display its treasures "in a way that will both preserve them and share them with our visitors".
The Grade I listed cathedral is the second oldest in the UK, and dates from 1083.
It is famed for its Norman nave and Romanesque facades, and is featured in Charles Dickens' works The Mystery of Edwin Drood and The Pickwick Papers.