Kent baby attack injuries 'could not have been prevented'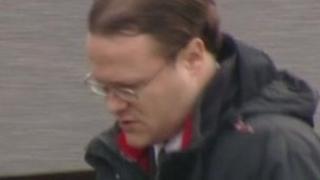 A case review into the serious injuries inflicted on a month-old baby has found there was no evidence to suggest they could have been predicted or prevented.
Nathan Rawling, 36, formerly of St Gregory's Crescent in Gravesend, Kent, was jailed for 10 years for causing life-threatening injuries to the boy.
They included two punctured lungs, 26 rib fractures and a broken collar bone.
The Kent Safeguarding Children Board concluded there was never any evidence to suggest "a risk of physical harm".
Its review looked into the roles of the Darent Valley Hospital, Kings College Hospital, the Kent Community Health NHS Trust, Kent Police, Kent County Council Children's Services, and GPs in the months leading up to the attack on the 32-day-old boy on 1 December 2011 and immediately afterwards.
'No significant weaknesses'
Rawling was convicted of causing grievous bodily harm with intent following a trial at Maidstone Crown Court in which he claimed the child's mother had carried out the attack.
The court heard the child suffered a cardiac arrest at Darent Valley Hospital after a "frenzied, brutal and persistent assault".
He was then transferred to Kings College Hospital in south London, where he spent more than a month in a serious condition.
The child has since fully recovered.
Following its review, the Kent Safeguarding Children Board said it had not identified any significant weaknesses in the services provided by any agency.
"The agencies contributing to this review had either no knowledge of the family, or no significant contact during the period under consideration, or previously," it said.
However, its conclusions highlighted a "leak" of confidential information about the case to the press, which resulted in "significant public disorder".
It said despite a thorough investigation the source of the leak had not been traced.
As a result, recommendations to the board include the establishment of "inter-agency protocols and good practice guidance for dealing with high profile cases".