Kent huntsman Brian Fraser in 'amicable' split with victim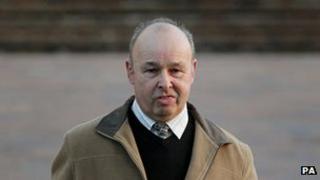 A huntsman accused of attempting to murder his former lover said he had not tried to rekindle their romance.
Brian Fraser, 63, told Maidstone Crown Court that his split from Louise Leggatt had been "quite amicable" and that he had no regrets about moving out of her home.
Mrs Leggatt suffered leg injuries when she was shot as she tended her horses in Benenden, Kent, on 15 March.
He denies attempted murder but admits possessing a firearm without a licence.
Mr Fraser, of Criol Lane, Shadoxhurst, told the court he had moved in with Mrs Leggatt in 2006 and stayed until the end of 2011 when he went back to his wife.
'Grown apart'
He said the couple had "grown apart", though admitted buying her chocolates and flowers because he felt they were still friends.
Prosecutors allege that Mr Fraser, who was a master of the Ashford Valley Hunt, tried to kill her "in a fit of pique" outside her home after she rejected his wishes for them to rekindle their relationship.
Two months before the shooting, which took place at 21:30 GMT, arsonists attacked her house, forcing her to rent accommodation next door.
The trial continues.