Ramsgate residents call to 'tear up' seaside flats plan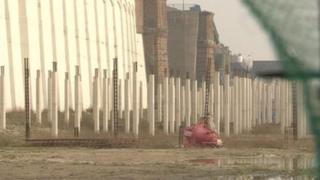 More than 80 residents want developers to be thrown off Ramsgate's former Pleasurama site amid complaints it has become derelict, a councillor has said.
SFP Ventures have said they need the freehold and £15m to continue building a hotel and flats on the Kent seafront.
Thanet council said SFP would get the freehold when work was finished, but negotiations were under way.
Independent councillor Ian Driver said SFP had been on site for 10 years and people wanted the agreement torn up.
"The unanimous feeling of over 80 local residents was the council should tear up the agreement with SFP, throw them off the site and start talking about alternative uses," he said.
He said SFP would not find funding in four months, and the council needed to take back the land and "do something sensible with it".
'Financial climate'
Terence Painter, SFP spokesman, said developers needed the freehold because funders wanted extra security in the current financial climate.
He said SFP had put £5m into the £20m project and work had started with construction of a roundabout, highways works, a contribution to cliff face repairs, and some elements of the apartments.
Mr Painter said the developers had an offer of funding from a high street bank in 2007 which was withdrawn because of the recession.
He said: "We share the frustration and concerns of the Ramsgate residents on the delay. The developer and his team are working relentlessly together with Thanet District Council in order to restart."
Thanet's deputy Labour leader Alan Poole said SFP had a 199-year lease on the site.
"We obviously want the development completed. It's been hanging around for far too long," he said.
He said the council had agreed to review the situation after four months.