Environmental boost for Manston Airport night flights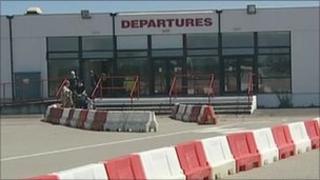 Limited night flying at Kent's Manston Airport has moved a step closer after two environmental investigations raised no objections.
An independent ecological survey and an assessment by government body Natural England have effectively given the environmental green light to the plans.
Neither raised concerns about potential impact on habitats or sites of special environmental significance in the area.
Thanet District Council is opposed to the plans, due to noise concerns.
Manston owner Infratil wants to introduce a "small number" of scheduled night flights at the airport, which would increase airport business and, it says, boost the local economy, while relieving pressure on other airports in south-east England.
Public consultation
It argues that the limited increase in night-time activity would not exceed the overall limits already permitted.
A survey a year ago by the district council of more than 2,000 residents found nearly three-quarters were against the proposals, with concern about noise levels and likely disturbance to sleep the principal objections.
Infratil was required to undertake the environmental impact assessments in case there was a potential effect on legally protected wildlife sites in the vicinity.
Natural England concluded there would be no adverse effect on the Thanet Coast Site of Special Scientific Interest (SSSI) or on the Thanet Coast and Sandwich Bay conservation sites,
Manston's chief executive, Charles Buchanan, welcomed the reports, by a firm called Aspect Ecology and Natural England.
He said: "The positive response from Natural England confirms our long held belief that the operation of the airport would not have any significant impact on the locally designated sites of special scientific interest, and the wildlife, flora and fauna found there."
The district council remains opposed to the move - to permit an average of two flights per night - although it does not have an ultimate veto on Manston's decision.
There will now be a three-week public consultation on the environmental reports.