Canterbury Act passed to regulate street pedlars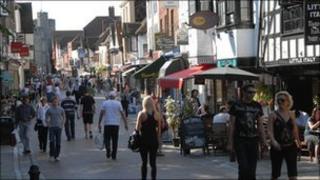 A law has been passed by Parliament to regulate how pedlars operate in Canterbury after concerns that they were breaking terms of their licences.
Campaigners said the 1871 Pedlars Act which controlled those selling from door to door was no longer suitable for regulating traders.
Julian Brazier, Conservative MP for Canterbury and Whitstable, said some traders were "clogging up the streets".
The Canterbury Act is due to receive royal assent later this month.
Mr Brazier said some people were claiming to be pedlars, but were trading in the High Street for the whole day.
He said Canterbury City Council faced a long court process to get a conviction and "a very small fine".
"People were coming in, street trading without paying a licence and clogging the streets up and saying 'we are pedlars'," he said.
"It was extremely burdensome to go through the courts."
Street traders pay up to £50 per day for a pitch in the city's market, whereas a pedlar's licence costs £20 per year.
Under the new law, pedlars can only trade in areas designated by the council and have to show they are mobile.
They can be issued with on-the-spot fines if they break the law.