Kent huntsman Brian Fraser cleared of trying to murder ex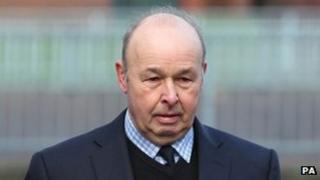 A leading Kent huntsman has been found not guilty of trying to kill his former lover.
Brian Fraser, 63, ex-master of the Ashford Valley Hunt, was accused of shooting Louise Leggatt last year.
Maidstone Crown Court heard Mrs Leggatt suffered leg injuries when she was shot as she tended her horses on 15 March.
Fraser, of Criol Lane, Shadoxhurst, pleaded not guilty to attempted murder but admitted possessing a firearm without a licence.
He was cleared of an alternative charge of grievous bodily harm with intent.
Fraser was accused of pulling the trigger "in a fit of pique" in a bid to murder Louise Leggatt as she went to tend her horses at Apple Pie Farm in Benenden in the district of Tunbridge Wells.
Prosecutors claimed Mrs Leggatt had rejected his efforts to rekindle their romance following the end of their five-year relationship.
'Lackadaisical attitude'
Judge Charles Byers warned Fraser he remained "at risk" of going to prison over the firearms offence.
He told him: "I have never come across such a lackadaisical and irresponsible attitude to firearms, particularly from someone described as a countryman."
During the trial, the court heard police had found an old, single-barrelled shotgun hidden between two hay bales on his land along with some cartridges.
Fraser had initially told police he had not owned a shotgun for 20 years, and when officers disclosed that one had been found on his land, he suggested he was being framed.
But later he admitted he did own the gun, telling officers it had been handed down to him by his father.
Fraser said he "panicked" in initial police interviews because he had been arrested on suspicion of a serious offence and he did not have a firearms licence.
But he denied being responsible for shooting Mrs Leggatt, who he said he had split from amicably and still considered a friend.
Fraser had suggested to police that Mrs Leggatt's ex-husband could be the gunman but he was questioned and freed without charge.
Jurors heard Mrs Leggatt, who finalised her divorce in 2007, allowed Fraser to move into her home in 2006, but their relationship hit difficulties over finances and working hours and he moved out in 2011 to go back to his wife.
The trial heard how Mrs Leggatt's dog had barked and seemed unsettled as she went to tend her horses on the night she was attacked.
'Tremendous stress'
She went outside with a torch and was shot once, leaving her with pellets in her bowel and pelvis. She managed to get back into her home before dialling 999.
Outside court, Fraser's solicitor Toby Burrough said: "Mr Fraser has always maintained his innocence in respect of the charges he faced and is thankful to the jury for reaching the verdict they did, and is obviously tremendously relieved at the outcome today."
He added: "It has been a tremendously stressful occasion for both him and his family."
Fraser's wife Nanette said: "I'm just relieved that it's all over and we can just get back to living together."
Fraser is due to be sentenced over the firearms offence on 18 March.