East Malling researchers kelp Kenyan rose-growers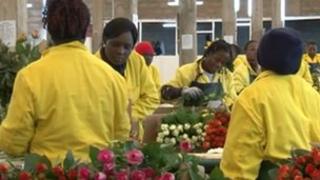 Scientists have developed a new way of growing roses using 80% less water.
The research is to help growers in Kenya meet demand for Valentine's Day flowers in Europe and America.
Scientists at East Malling Research in Kent said they were perfecting giving the plants as little water as possible, but enough to keep them healthy.
Ross Newham, from East Malling Research, said it currently took took eight litres of water to produce one stem of rose.
"That's difficult enough in the UK, it's even more challenging in Kenya where 70% of our roses come from," he said.
"There are times when they don't have as much water as they need for people and the environment as well as horticultural production which is so important to them.
"We want to use the science we have developed here to help them produce wonderful roses for Valentine's Day, but in a more sustainable manner."
On the farms in Kenya, the plants are expected to be given about 40% less water.
Field trials are due to begin later this year.
The method was originally tested on strawberries.