Canterbury car park scrapping plans opposed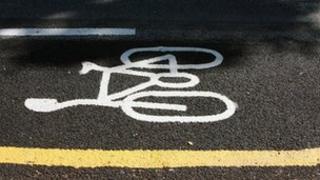 Proposals to create a bike loan scheme and scrap car parks with low demand in Canterbury are being opposed by motoring groups.
The report, commissioned by the Canterbury Society and Canterbury 4 Clean Air, has been been presented to the city council.
It aims to promote cycling and bus travel to reduce congestion.
The Alliance of British Drivers in Kent said it would make the problem worse for drivers.
The council leader said parts of the report were "not fit for purpose".
The report states that city centre car parks could be gradually replaced with "more valuable" uses such as housing and civic spaces, as demand for parking space decreases.
Brian MacDowell, from the Alliance of British Drivers in Kent, said: "It is abhorrent to think we could reduce parking space in Canterbury - it is already tight enough and a very expensive place to park.
"This report, if it ever goes through, and knowing Canterbury Council's desire to be seen as green and forward thinking, I think it may go through, will just make congestion in that city even worse."
'Cars not banned'
Leader of the Conservative controlled council John Gilbey said he had mixed feelings over the report
"It has got an awful lot of information in it - some of it's good, some of it I don't think is going to be fit for purpose," he said.
"There are lots of different views that come in and a lot of people come up with their solutions and we have to put everything together.
"Cars are not being banned from Canterbury, we cannot ban the cars from Canterbury."
However, he added that within the medieval walls there may be more pedestrianisation.