Medway Council's child protection rated inadequate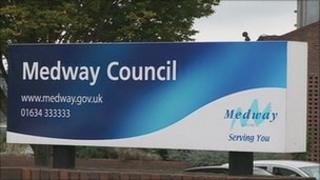 A Kent council's child protection services have been rated inadequate in a damning report.
Ofsted inspectors demanded immediate changes at Medway Council after identifying a series of failings.
The report said "committed and hardworking" social workers faced challenges including high caseloads and systems that did not support effective practice.
Council chiefs have apologised and vowed to make speedy improvements.
The report, published on Friday, said the overall effectiveness of the Conservative-run authority's child protection arrangements were inadequate, as well as its leadership and governance and quality of practice.
Inspectors found "significant deficits" in key elements when they carried out an unannounced visit last month.
'Recent instability'
Other areas found wanting were in the council's effectiveness to help and protect children, young people, families and carers, the report found.
It said social workers faced challenges including "recent instability at senior management level".
The Labour group on the council said it had had concerns since a single directorate for children and adult's services was introduced five years ago.
Adam Price, the party's spokesman for children and young people, said the directorate was "simply too big for one director to deal with".
He said: "We call on the council to revert to the former senior leadership model of separate directors of Children's Services and Adult Services to ensure the best possible chance of recovering from this unacceptable position.
"We also call on the council to report back publicly in 100 days on the progress that has been made to attempt to regain some confidence with Medway residents following today's report."
Ofsted inspectors found that some cases were closed without families being redirected to another service or offered further support.
No children were deemed at "immediate risk" but the report said failings in case recording, quality of practice and management oversight led to "some children being inadequately protected".
Conservative Les Wicks, the council's portfolio holder for children's services, said: "I would like to unreservedly apologise to the people of Medway, our children and families, for our failure to deliver the children's safeguarding service that our children and young people in Medway deserve.
"The situation is not good enough and is not acceptable."
Neil Davies, the authority's chief executive, said it was an "immensely disappointing" report for the authority, which had its child protection services rated adequate following its last inspection in 2011.
He said that Ofsted had introduced more rigorous testing since then.
Mr Davies said positives highlighted in the report included that the new senior managers at the authority were "very clear" about the changes needed and that they recognised that the pace of improvement had been too slow.
He said: "I have been very forthright in my belief that the work we do around child protection and safeguarding needs to improve and when it became clear last year that this was not happening quickly enough I considered this unacceptable."
He said that he was confident that the directorate under Barbara Peacock, the director of children and adult services, had the right leadership and the right plan in place to deliver the improvements needed.