Kent freezes council tax but cuts 100 jobs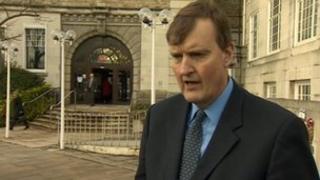 More than 100 jobs will be cut after Kent County Council agreed to freeze council tax for a third year running and save £94m from its budget.
Cuts will include £200,000 from sports development, and there will be "adjustments" to adult social care.
Leader of the Conservative-run council, Paul Carter, said the aim was to improve services to the elderly and vulnerable by doing things differently.
But the Lib Dems said they believed the council wasted money in many areas.
Lib Dem leader Trudy Dean said the party would have preferred not to increase staff salaries by 1% and so avoid the job cuts.
'Cross-party agreement'
"We have a lot of money in the so-called big society fund of £5m of which only £170,000 has been paid out to businesses and we want to claw back that and put it into real improvements in apprenticeships."
But she said there was cross-party agreement on the decision to freeze council tax.
"This is a really difficult year for families and we don't believe that adding any further to the council tax bill is going to be a good idea," she said following Thursday's meeting of the full council.
Mr Carter said the council's budget was about £1.3bn but it had 30% less money because of "draconian cuts" by central government.
"Just because we are spending less money doesn't mean you can't improve services," he said.
"The aim is to go on improving services to the elderly and the vulnerable by doing things radically and dramatically differently.
"The new relationship with the health service from April this year I think will better support the elderly and the vulnerable and the sick by joined up, integrated community health services."