Dungeness C: Third nuclear plant can be achieved, says MP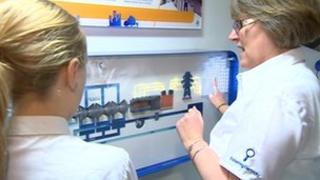 Calls for another nuclear power station at Dungeness have accompanied the opening of a new visitor centre there.
EDF is reopening visitor centres at nuclear plants following their closures after the 9/11 attacks in New York.
The opening of a new centre at Dungeness also coincided with the 30th anniversary of Dungeness B.
Dungeness A has been decommissioned and Dungeness B is due to stop generating power by 2018 but the local MP said the community backed a new Dungeness C.
'Local jobs needed'
Damian Collins, Folkestone and Hythe's Conservative MP, said: "It can be achieved and the government's door is open to talk to any energy company.
"What the government knows, as the industry knows, is there is more local support from the people of Romney Marsh than anywhere else in the country to get alongside nuclear power and see more jobs created here."
The new visitor centre was unveiled at the plant on Friday, and tours of the plant are due to start next month.
In 2009, the previous government dismissed Dungeness as a location for a new nuclear power station.
Hundreds of people later called on the coalition to reconsider the decision and Mr Collins said thousands of jobs in Kent and East Sussex were dependent on the power plant.
Calls for a Dungeness C were also backed by Shepway council, but the local authority said the likelihood of having a new nuclear power station was low.