Canterbury's Westgate Towers get full survey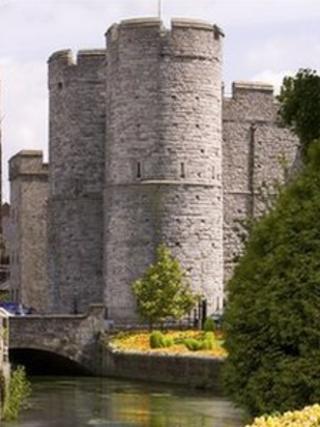 Roads near to Canterbury's Westgate Towers are closed while the city council carries out a full structural survey.
The towers were last surveyed about 15 years ago and the results will be used by the council and English Heritage who monitor their condition.
The survey will take place between 17 and 19 February with diversions in place on Sunday.
The city council said no road closures were needed on Monday or Tuesday.
On Sunday there will be no through access between St Peter's Place and St Dunstan's Street/North Lane with signposted diversions put in place.
Petition
In March 2012 a ban on traffic passing under the medieval gateway came into effect.
About 4,000 people signed a petition calling for the scheme to be scrapped, because of congestion, longer journey times and danger to pedestrians.
But Canterbury council's executive said it would continue the 12-month trial.
The project will allow the effect of the changes to be monitored at different times of year.
Built in 1380, the grade-I listed archway structure is the main entrance for vehicles entering Canterbury, and is thought to be the largest surviving medieval gateway in the UK.
Canterbury City Council said the 3D laser scan being applied during the structural survey was planned as part of the year-long closure.