Eastbourne District General and the Conquest hospitals 'fully compliant'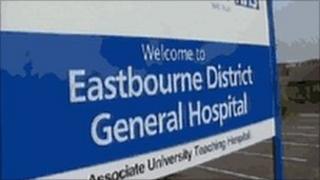 Two hospitals in Sussex have been deemed "fully compliant", two years after inspectors found patients were being put at risk because there were too few staff.
In 2011 the Care Quality Commission (CQC) criticised services in A&E and maternity and on wards at Eastbourne and the Conquest, in Hastings.
Their latest report said the hospitals had now met essential standards.
The trust said it was pleasing to see the improvements recognised.
'Continually improving'
CQC published its latest report following unannounced visits to the hospitals by inspectors last month.
The aim of the visit was to check whether they had taken action to meet essential standards in the management of medicines, and assessing and monitoring the quality of service provision.
"We found that systems were in place for the safe management of medication," the report said.
"Quality monitoring systems were embedded and effective in providing information about the operational quality of patient services across the trust."
Darren Grayson, chief executive of East Sussex Healthcare NHS Trust, said: "Although we have achieved our goal and become fully compliant it is not a time to become complacent.
"We are committed to continually improving the quality of care and outcomes for patients and aim to get every aspect of care right for all our patients all of the time."