Thanet council to be sued over Ramsgate animal export ban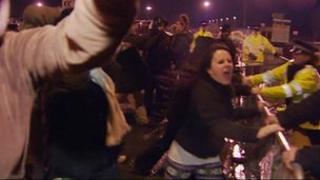 A Kent council is being sued by live animal exporters for lost earnings during a council ban on using the port of Ramsgate last year.
Thanet District Council imposed the temporary ban in September after 44 sick or lame sheep were put down and three more died during checks.
But it lifted the suspension in November following a High Court ruling.
Now the council has confirmed that "a case for damages" is due to be heard in another division of the High Court.
The authority is refusing to say any more about the case or confirm the identities of the businesses taking legal action.
Ban overturned
But three Dutch limited companies were involved in the High Court challenge last October, requesting a judicial review of the council's decision.
The council lifted the suspension - initially imposed until safer facilities for animals in transit could be built at the port - on legal advice after the High Court overturned the ban pending a judicial review.
The review was dropped following the council U-turn.
Last month Kent Police revealed that policing the protests against the live exports had cost more than £400,000 in the past 18 months.