PCC Ann Barnes calls for rape victim centre funding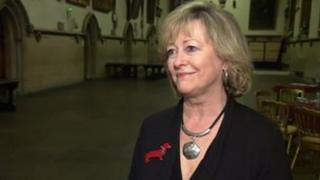 Kent's police and crime commissioner (PCC) Ann Barnes is urging victims minister Helen Grant to provide funding for a 24/7 unit for rape victims.
Kent is the only county in the South East that does not have a round-the-clock Sexual Assault Referral Centre.
Ms Barnes said she was writing to Ms Grant, who is MP for Maidstone and The Weald, to ask for financial support.
On Friday Ms Grant announced that £4m was to be spent on four new rape victim support centres in England.
The units, which provide specialist counselling, will open in Reading, Avon and Somerset, Lincolnshire and Central Lancashire in 2013-14.
'Real concern'
Kent currently has two similar centres but Ms Barnes wants funding for a 24-7 Sexual Assault Referral Centre (SARC), where victims are medically examined by a doctor and evidence can be taken.
The SARC at Darent Valley Hospital in Dartford, is currently staffed between 09:00 and 17:00.
Ms Barnes said: "She is the victims minister, she should be looking at areas where provision is not good.
"I'm certainly going to be writing to her because I would like to talk to her about it because it is a really important issue for us here in Kent and one that I'm really, really concerned about."
Following the announcement, Ms Grant told BBC Radio Kent "We've responded to where people say these centres are needed.
"At the minute it would appear that we have two very good rape support centres in Kent working across 26 locations.
"We've also got a Kent-specific helpline that does an excellent job, plus a number of SARC centres too.
"The government has doubled the number of independent sexual violence advisers that work within the SARCs."
She said the government spoke to a number of charities around the country that said there was insufficient or no support in their area and granted money to some of them following an application process.
Sexual Assault Referral Centres are usually run in partnership and funded by the NHS, police and the voluntary sector.