Sevenoaks livestock saved as straw fire burns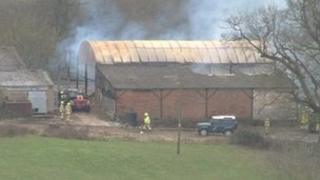 Livestock had to be moved to safety after 100 tones of straw caught fire in a Dutch barn at a farm in Sevenoaks.
Kent Fire and Rescue Service said four cows in the barn and animals in an adjacent building had to be moved.
Emergency services were called to Hubbards Hill after the straw caught fire just before 22:00 GMT on Saturday.
Four fire crews tackled the blaze overnight, with two still on the scene on Sunday. The fire was being allowed to burn out in controlled conditions.
A small amount of asbestos on the site was dealt with safely.
The cause of the fire is not yet known.