Screams in Tunbridge Wells pub were from horror film scene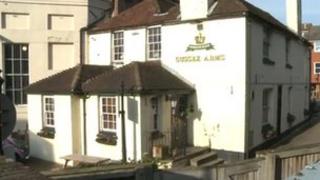 Police were dispatched after screams were heard coming from a pub in Kent - only to find the source was a film set.
Kent Police said a passer-by called the force saying he could hear a woman screaming in the Sussex Arms in the Pantiles area of Tunbridge Wells.
An officer arrived, to discover the screams were coming from a film set.
Brighton-based Substantial Films said the crew had been filming a horror scene last week featuring a woman being tortured with a blow torch.
It said the short film was part of a campaign to raise £30,000 to shoot a psychological horror film.