Rail passenger told 'get a taxi' for journey from Herne Bay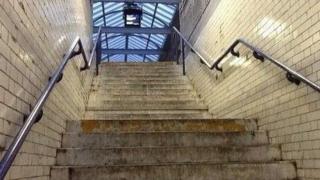 A pensioner was told to "get a taxi" as part of her railway journey when she asked about disabled access at Herne Bay station in Kent, her son claims.
Ann Nicholson, 74, was buying a return ticket from London Victoria to Herne Bay on Sunday.
She was advised to get a taxi to Whitstable, about five miles away, for the return journey as the platform at Herne Bay did not have disabled access.
Ms Nicholson suffers from rheumatoid arthritis and is registered disabled.
Her son, John Nicholson, said disabled access at Herne Bay was requested two years ago.
Passengers using the London-bound trains need to use steps and an underpass to get to the platform.
A spokeswoman for the rail company said: "Southeastern will be putting Herne Bay station forward for consideration for funding.
"Major works - providing lifts etc - rests with Network Rail who own the stations.
"Some of our stations are over 150 years old and are inaccessible to those in a wheelchair.
"We will arrange for our staff to be available at any station where assistance is needed.
"If a taxi is required, then we will pay for and arrange this transport for our customers."
Mr Nicholson, the co-founder of Kent Commuter's Alliance, said: "Normally the station staff are very helpful, but the advice [was] to 'get a cab' - there was no advice about Southeastern picking up the tab.
"Herne Bay has a lot of people with mobility problems, plus people with prams, and those wanting London-bound trains always need assistance.
"The station isn't always staffed."
Network Rail said about £60m had been spent so far on accessibility improvements on Kent's routes.