Parked cars 'could stop fire engines' in Staplehurst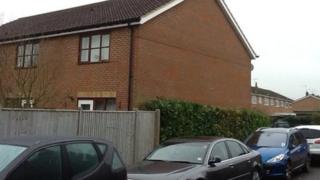 Fears that rail commuters' parked cars could block emergency services getting to parts of a Kent housing estate have sparked an online campaign.
Residents of Lime Trees, near Staplehurst station, are posting photos of the parked cars on a Facebook page.
Councillor Richard Lusty, who sits on Maidstone Borough Council, said: "The problem is getting worse."
Restricting parking in the roads for an hour each day might resolve the residents' issues, Mr Lusty suggested.
Jo Pow, who lives on the estate, said: "Recently the [station] car park put its charges up.
"It's not a case of the car park being full, we've been over there and had a look and there are plenty of spaces.
"People don't want to pay, they want to go somewhere where it's free, and we're the nearest."
The station car park costs £5.50 for a full day's parking, or £25.00 for a weekly ticket, and has 438 spaces.
'I was appalled'
Mr Lusty, who is represents Staplehurst and is chairman of Maidstone council's planning committee, said: "I was down there a few days ago and I was appalled.
"If there had a been a fire at the end of the cul-de-sac, I don't believe the fire engine would have got there."
He said he suggested to residents that they conduct an audit to find out how long people are parking outside their homes.
"This estate is being targeted with people parking all day, and although people have the right to park, it's totally unacceptable to be parking all day.
"If we could stop the commuters parking simply by putting a restriction in the roads for an hour each side that would actually work."