Canterbury litter crackdown nets thousands in fines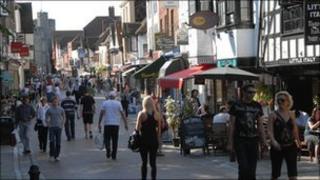 Fines totalling nearly £8,000 have been issued for littering in Canterbury just two months after patrols in the city centre began.
Canterbury City Council launched its four-month crackdown to combat the problem in January.
Anything discarded, including chewing gum and cigarette butts, can lead to on-the-spot fines of £80.
Deputy head of neighbourhood services, Doug Rattray, said there was no "kind of profit motive" in the initiative.
He explained that many people appeared to have "a wanton disregard" towards using bins and ash trays.
'Take your litter home'
"This includes cigarette ends, which are the cause of a substantial amount of offences detected," he said.
"These people are so obvious that they attract the attention of our staff," he said, adding that any surplus money from the fines would be used for environmental improvement projects.
The crackdown is being carried out on a trial basis until the end of March.
Bob Jones, chair of the Canterbury City Partnership, said a large amount of the council's budget was spent on keeping the city clean, and it was local people rather than tourists who were to blame for litter.
"You certainly look at the verges around the county coming off roads, [there is] often quite a bit of litter there," he said.
"Those are not tourists, those are people who really just don't think about what they're doing - they'd rather have a clean car than a clean country.
"We need to think differently about that - take your litter home, dispose of it sensibly, and keep Canterbury clean."