Ramsgate sheep deaths: Three men and firm face charges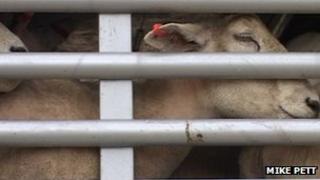 Three men and a firm are to face charges following the deaths of 47 sheep at the Port of Ramsgate.
Three sheep drowned and 44 were destroyed during an incident at the port on 12 September 2012.
The men, based in the UK and France, and a Kent firm are accused of loading sheep which were unfit to travel and transporting them in an inappropriate vehicle.
All defendants are due to appear before Canterbury magistrates on 2 April.
A Kent County Council spokeswoman said: "Kent County Council will be taking legal action against a number of defendants in relation to an incident at the port of Ramsgate on 12 September 2012 regarding the transport of livestock through the port.
"The maximum punishment, if convicted, is six months' imprisonment and/or a £5,000 fine.
"We are unable to comment further at this stage."
On Monday, the Farming Minister David Heath announced that every future consignment of live animals that passed through the Port of Ramsgate would be inspected.
He said there would be tougher enforcement of welfare procedures following a review by the Animal Health and Veterinary Laboratories Agency (AHVLA).
The AHVLA also plans to make sure a vet is within an hour of the port and has vowed to work with transport operators on new emergency contingency measures.