QEII bridge closure delays M25 drivers in Kent and Essex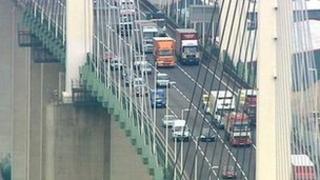 The Dartford Crossing bridge was closed for several hours, causing serious delays on the M25, as a motorist apparently took his own life.
The QEII Bridge closed at 11:10 GMT, with clockwise traffic heading from Essex to Kent being diverted through the Dartford Tunnel.
The bridge over the Thames reopened during the evening but lengthy delays were still being reported.
Earlier, motorists were being delayed by up to three hours.
At the Dartford crossing traffic heading south uses the bridge while northbound vehicles use two tunnels.
When the bridge has to be closed one of the tunnels is closed to its regular northbound traffic so southbound drivers can be diverted into it.