M20 in Kent still disrupted by cross-channel backlog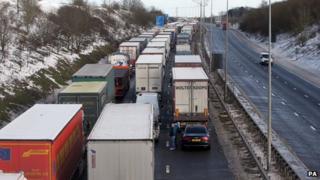 Part of the M20 in Kent remains closed as police and port officials continue to regulate freight traffic heading for Dover and the Channel Tunnel.
Operation Stack - which reserves part of the coastbound motorway for lorries to park before crossing the Channel - has been in place since early Tuesday.
Police say it will remain in operation for the rest of Wednesday and possibly into Thursday.
Rail services through the tunnel also remain affected by snow and ice.
Freezing weather on both sides of the Channel has disrupted road, rail and ferry services in Kent since Monday.
'Substantial queues'
The backlog prompted the closure of the M20 between the Maidstone and Ashford turn-offs to allow for the complex operation to shift non-freight traffic off the motorway and onto the A20 to make room for the hundreds of lorries waiting to board ferries and trains for France.
A police spokeswoman said the section was no longer full of lorries, but still had substantial queues.
A decision on how long the operation continues will be made later.
A Port of Dover spokesman said: "We're loading lorries on as fast we can."
Latest local news, travel and weather
Eurostar is still reporting lengthy delays for passengers using its high-speed trains through the tunnel.
The company said it was operating an amended timetable on Wednesday and Thursday, with delays of up to two hours expected because of speed restrictions.
Timetables for passengers using Eurotunnel services were back to normal, with up to two departures an hour, but freight traffic could expect waits of up to 30 minutes to check in for cross-Channel journeys.
Southeastern trains had earlier said some services had to be delayed or cancelled, but it has since been reporting no disruption.
BBC weather presenter Rachel Mackley said the worst of the wintry weather would die out overnight, but that there would be a widespread frost throughout the South East before temperatures started rising again during Thursday.
The enhanced content on this page requires Javascript and Flash Player 9
Map Key
Land
Cloud
Lakes, Rivers & Sea
Fog
Light
Heavy
Frost
Light
Heavy
Pressure Fronts
Cold
Warm
Occluded
Rain
Light
Heavy
Extreme
Snow
Light
Heavy
Temperature tab only
Temperature (°C)
More details from BBC Weather