M20 in Kent reopens after cross-Channel delays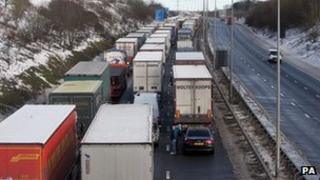 Part of the M20 in Kent that was closed to regulate freight traffic heading for Dover and the Channel Tunnel has reopened.
Operation Stack - which reserves part of the coastbound motorway for lorries to park before crossing the Channel - had been in place since early Tuesday.
The closure due to poor weather conditions in northern France also affected rail services.
Eurostar said speed restrictions were still operating on the high speed line.
Freezing weather
It said due to the ongoing wintry weather, which was also affecting Belgium, trains might be delayed by up to 30 minutes, and a small number of services had been cancelled.
Eurotunnel said its services for passengers were currently operating to schedule.
It said there was no waiting time before check-in for freight traffic, but due to an earlier cancellation, the journey from check-in to arrival in France would take about two hours.
Freezing weather on both sides of the Channel has disrupted road, rail and ferry services in Kent since Monday.