Kent commuters could use Oyster, says Transport for London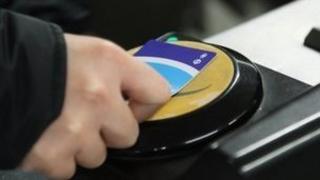 Commuters in parts of Kent could use Oyster cards under plans for Transport for London (TfL) to extend its services to the county.
TfL wants to run mainline services to Dartford, and Dunton Green, near Sevenoaks, under proposals supported by London mayor Boris Johnson.
The scheme would make some fares cheaper, the operator said.
But concerns have been expressed that ticket prices would be controlled by unelected officials in London.
Geoff Hobbs, from TfL, said the plans would improve reliability, which would have a "knock-on effect" on longer distance routes.
'Carrots being dangled'
He said an operator would be paid to run the system and TfL would pay them extra if they ran a reliable service, and less if not.
Peter Fleming, leader of Sevenoaks District Council, said he thought the proposals, for what is currently the Thameslink service, were "a mixed bag", adding that he thought commuters generally would welcome the plans.
"I think some of the carrots that are being dangled - Oyster cards - that in itself may bring its own issues," he said, because some trains could accept Oyster cards while others may not.
"Also, Sevenoaks already suffers from people driving quite a long distance to catch a train from here," he added.
"I'd be interested to see what the statistics on the likelihood of people travelling that much further, and then putting even more strain on this station, is."