Folkestone's £7m Three Hills Sports Park opens doors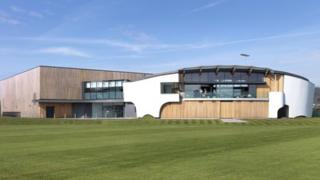 Sports clubs in Kent have united to build a £7m facility which backers hope will become a centre of excellence.
The Three Hill Sports Park, which has a range of artificial playing surfaces, will concentrate on hockey, cricket, netball and running.
The centre has been mainly funded by local businessman Roger de Haan, who made his fortune with his Saga empire.
The new facility was officially opened by Minister for Sport Hugh Robertson on Friday.
Folkestone Optimist Hockey Club and Folkestone Cricket Club pitched their idea of a joint facility on the site to Mr de Haan.
He agreed to back more ambitious proposals which saw netball introduced as a third core sport.
The site has two cricket pitches, two artificial pitches for hockey and other sports, a sports hall and a clubhouse.