Kent 'secret army' study by University of Sussex given funding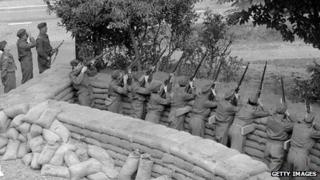 A study into a "secret army" of Kent residents trained to fend off a Nazi invasion has been given funding.
The University of Sussex project will look at Kent's auxiliary units to the Home Guard who would have led a guerrilla war against German invaders.
According to researcher Sian Edwards, the Isle of Thanet was central to London's defence.
The project has received funding from the Arts and Humanities Research Council's Cultural Engagement Fund.
Ms Edwards said the project is expected to last three months.
She said: "I was excited to discover such a rich and exciting story so close to home and look forward to hearing, and sharing with the local community, stories of those who were involved in local acts of defence such as the auxiliary units."