Kent council leader calls on government to 'deport or support' asylum seekers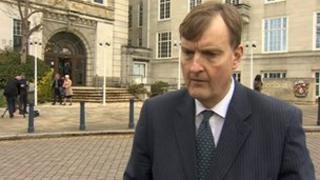 The Home Office should either deport or support young asylum seekers who have been refused the right to remain, the leader of Kent County Council has said.
Paul Carter said the authority was spending £1.5m a year supporting more than 100 failed asylum seekers who have turned 18.
The council believes it has an obligation under the Children's Act 2004 to support them until they are 24.
But border officials said it did not and was incurring unnecessary costs.
Kent is a key entry point for asylum seekers and the Home Office reimburses the council for the cost of fostering and care for children until they reach 18.
Council cabinet members met to discuss a report into the costs of supporting failed asylum seekers once they reach 18 earlier.
The report says: "Despite assertions to the contrary from UKBA [UK Border Agency], case-law suggests that the local authority retains responsibility for providing accommodation and support to ARE [Appeals Rights Exhausted] young people over the age of 18.
"If the local authority decided to remove support in accordance with UKBA advice, it is highly probable that legal challenges would follow in relation to the lawfulness of the council's actions with the attendant financial and reputational risks."
Conservative Mr Carter said the government should pay support for over-18s who have been refused leave to stay but have not been deported.
He added that without support or funding, they could become destitute or turn to crime.
'Greater costs'
"What our beef is at the moment with the Home Office is that when those young people have failed all rights of appeal, we're not making them destitute because the Children's Act says so," Mr Carter said.
"But yet we're having to pick up the cost on the council taxpayers expense.
"That is not fair, the Home Office should be picking up those bills."
The council said it would invoice the UKBA on a monthly basis.
Conservative Rochester and Strood MP Mark Reckless, a member of the Home Affairs Select Committee, said he was "astonished" that the council was supporting failed asylum seekers aged over 18.
Providing support would encourage more unaccompanied asylum seekers to arrive in the county and be kept at taxpayers' expense, he said.
"They have been ordered to leave the country," he said.
"If every single failed asylum seeker has to be deported forcibly then the costs become much greater."